Taksi is a desktop video recorder/screenshot capture application for most versions of Windows. It can be hooked to most applications/games (via GDI,OpenGL,DirectX8 or 9) to record as an AVI video all that you are doing. It is based on the VFW API's and can use any of the installed video codecs to encode in real time (if your CPU can handle it). This is an open source project that can also be found on sourceforge.net.
This is a FREE open source (BSD licensed) project that can be found on sourceforge.net and on its alternate web page here.
News Post:
Features:
Can record video as compressed or uncompressed AVI-files (no audio (yet)).
Video compression occurs in background thread for use in multi processor (hyperthread) machines.
Very simple user interface for hooking applications to be recorded.
Very small footprint (~300k). Written in C++, and does NOT use MFC.
Can capture video frames from applications using DirectX 8 or 9, OpenGL, or GDI
Has visual feedback while recording even in full screen games.
Runs on Windows 95, 98, ME, NT 4.0, 2000, XP.
Hooks keyboard or uses DirectInput for hotkeys to control recording.
Captures still frames in BMP or PNG format.
Download:
.
The Shareware Pad.xml file can be found here and the sample web page here.
.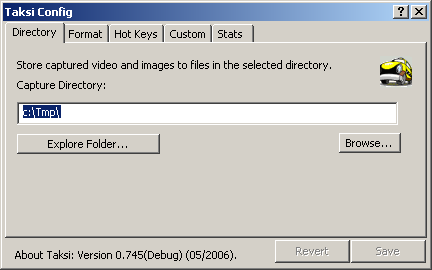 Press the tabs on the image to see each of the tabs.