Sound Pad is a full featured sound wave editor for all versions of Windows (XP, 2000, 95, NT and 3.1). It is a bit out of date compared to open source programs like Audacity, but it still has some useful features.

Sound Pad has been an on going project since ~1992. It began its life as a piece of test code for other audio projects. The wave manipulation capabilities of SOUNDPAD are useful to a range of other Menasoft projects.
Its a bit out of date and hasn't been updated lately. So programs like Audacity (sourceforge) might be a better option, but it still has some useful features. For instance I lately needed to do some re-sampling of WAV files from 44100 to 32000Hz. I could not find any tool as simple and easy as SoundPad for that task.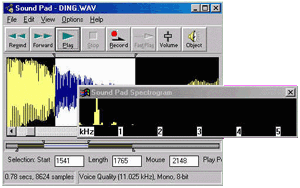 Features:
Full multi level undo and redo of changes to the sound
Windows 3.1, Windows 95 and NT versions available.
Import files of type: Apple Mac (AIFF), Sound Blaster (VOC), Sun/NeXT(AU), RAW header-less
Live display of a recording wave image.
Windows 95 Audio Compression Manager (ACM) compatible.
Convert from one compression format to another easily.
Windows 95 install / un-install registered.
Pasting and mixing effects automatically take advantage of ACM and format conversion.
Allows full editing of compressed sound formats.
Allows separate editing of stereo channels.
Adjustable mixing of sounds.
Extensive help for all dialogs.
Full keyboard navigation (no mouse required)
Active Spectrogram display of the current play position.
OLE1 Server with configurable object view. (16 bit version)
Effects: Amplify, Fade, Pitch, Echo
Effects: Remove Background, Tone, Fill, Silence,Low Pass Filter, Reverse, Noise, Measure
Internationalized and all application text is resource ready for translation to other languages
Download: